Reviews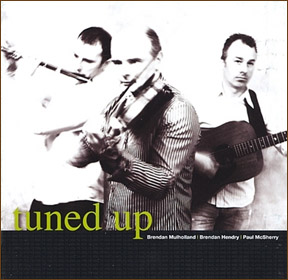 MULHOLLAND, HENDRY, McSHERRY - Tuned Up
Own label
10 tracks, 47 minutes
Now this is something special. A couple of handy Ulster lads on flute and fiddle may not be unusual, but the fierce energy and passion which pours out of Brendan Mulholland and Brendan Hendry is rare indeed. Add to that their uncanny synchrony, plus their taste for good tunes, and it's tempting to see Tuned Up as an instant classic. Certainly this recording is proof enough that the tradition of flute and fiddle duets is alive and well in Derry and Antrim. Listen to the change out of Tatter Jack Walsh, the lead into Mug of Brown Ale. And it's not just jigs: The Boys of Malin is rattled out in impeccable unison, and the opening Fox on the Town set is pretty spot-on too. There's a strong Scots influence on the material here, with Gladstone's Reel maintaining its popularity in Ulster and The High Road to Linton treated as a two-part swagger. Ian "Tonkan" MacDonald's charming waltz opens a set containing Tania "Duhks" Elizabeth's slow reel The Dregs of Birch and a spirited rendition of The Road to Taynuilt - a definite highlight. I should also mention the trio of jigs by Brendan Hendry, eccentric and familiar by turns, great old-style tunes.
Some might take issue with the phrase "perfect guitar accompaniment" applied to Irish music, but if you have to have a guitarist you'd be wise to look in County Antrim and you couldn't get much better than Paul McSherry. His strumming drives the jigs and reels, and his rippling runs and arpeggios provide the ideal backdrop for Gerald Fahy's air Magh Seola. There's interesting little bits and pieces going on behind Johnny O'Leary's Polka, and Paul takes the lead on a silky slow version of The Kilavil Jig. Brendan Mulholland's composition The Lost Ring follows seamlessly as a flute and guitar duet, and Brendan Hendry finally takes his bow on the Jerry Holland tune Malcolm's New Fiddle. That's Jerry with a J, from Boston. Neither Jerry nor anyone else joins the trio here: Tuned Up is all their own work, and very proud of it they should be too. Might be hard to find, but www.paulmcsherry.com has sample tracks.
Alex Monaghan
---
BRENDON MULHOLLAND, BRENDAN HENDRY, PAUL McSHERRY
Tuned Up
Own label – no number; 47 min; 2008

To quote Frank Carson, 'It's a cracker' – the only phrase applicable to the finest fiddle-flute album to emerge from Ireland since Molloy, Peoples, Brady. Just as Paul Brady's guitar seemed to drive Matt and Tommy onwards towards musical nirvana, the sheer dexterity of Belfast's Paul McSherry (whether picking, plucking or strumming) provides not only an ever-tasteful backdrop to the musical intertwining of the two Brendans, but a marvellous lesson for any aspiring accompanists.

Brendan the fiddler hails from Glenavy in Co. Antrim (once home to the singer Robert Cinnamond) while Brendan the fluter is a native of Bellaghy in the south of Co. Derry (a town whose environs feature strongly in the work of its most famous son, Seamus Heaney). Together they form a fabulous musical conjugation, whose combined pure sound – best heard on the set of jigs kick-started by Tatter Jack Walsh – is guaranteed to send shivers up your spine, and, contrarily, suggest the warmth of an inglenook.

There's much fun to be heard here too. It's impossible to listen to High Road to Linton/The Humours of Newcastle without wanting to laugh at your enemies while also realising that twirling your partner around the kitchen might still be a possibility (if not, whistle the tunes while you take the dog for a walk).

Finally, the sheer lyricism of Mug of Brown Ale/Scatter the Mud/Cúl Aod Jig reveals musicians in such perfect congruence that it's a huge disappointment to discover that the CD lacks a further 30 minutes or more of hidden tracks.

This is an album so damned good that its essence should be bottled and force-fed to all Irish infants.
Geoff Wallis
fRoots magazine
---
'Tuned Up' - a gem of the Irish tradition (October 16, 2008)
A new CD from Copperplate Distribution arrived a few days ago. Called 'Tuned Up' from Brendan Hendry, Brendan Mulholland and Paul McSherry, it's a reflection of three men and their collective love of the music of Ireland. Although the names may sound like a firm of solicitors, Hendry, Mulholland and McSherry are musicians - and damn fine musicians too, ranked among the best in timeless Irish traditional music.
If you consider the classic combination of fiddle and flute to be the essence of Irish music then 'Tuned Up' is for you. If adding supremely sensitive guitar rounds out your mood, then you're in for a treat.

The two Brendans - Hendry and Mulholland, play fiddle and flute respectively, while Paul McSherry plays guitar. With 'Tuned Up' these three have created a simple unadorned album that works on so many levels. Straight out the box it's a lovingly crafted selection of tunes - traditional, self-penned and borrowed. On subsequent listens it grows into a musical book with new, half-remembered and untold tales woven into its fabric. The more you listen the more you hear. And they've included some of my favourites: 'High Road to Linton/ The Humours of Newcastle' plus 'Johnny O'Leary'/ Boys of Malin'.

There's a well-worn expression about musicians being so tight you can't force a cigarette paper between them – well these guys are so tight they must be joined at the hip. Brendan Hendry is rightfully recognised among the great and good of Irish fiddlers - easy to see why. Brendan Mulholland makes the flute his own instrument, so much so that few can match him. Too often when bands use guitar or bouzouki with fiddle and flute, it's with the finesse of a road drill. Not so here, Paul McSherry wraps his style around the fiddle and flute with the balance of a true master.

These great musicians touch the beating heart of their music and clearly soak up its changing moods with the air they breathe. Released on 27 October, 'Tuned Up' should be in your collection – no doubt.
Tim Carroll
FolkWords
---
Tuned Up
David Granville reviews Tuned Up, Brendan Hendry, Brendan Mulholland & Paul McSherry, Copperplate COPP014

BRING TOGETHER three of Ulster's finest traditional musicians and it would be disappointing if what emerged was not worthy of a place in the collection of the discerning Irish-music devotee.
There's certainly no disappointment here, with a cracking studio album from Brendan Hendry (fiddle), Brendan Mulholland (flute) and Paul McSherry (guitar) - though it took this reviewer a few plays for its brilliance to fully sink in.
Indeed, the first time I played it I have to admit to being a tad disappointed. This was not because the playing or recording was in any way bad. Quite the contrary. If anything, I thought it a little too slick and smooth, I now recall.
Several plays on, and any such reaction seems nothing short of perverse. To cut to the chase, the album, a stimulating and satisfying mix of traditional and contemporary tunes, has grown on me with each play - to such an extent that it's rapidly becoming one of my favourites of the year.
You get an inkling from the black and white photos on the album cover and liner notes that what's in store for the listener is going to be of the no frills, no nonsense variety. And so it is.
A fine collection of polkas, jigs, reels and airs, including a number of original compositions, the album is a delight from start to finish. A real gem, there's not a duff tune on it. The interplay never short of electric, incorporating subtlety, variety, originality and musicianship of the highest calibre.
However, it's some of the slower tunes, such as The Killavi (jig) and the Murray Blair's Shovel-tongue (reel), which have worked their way on to my all-time favourites list.
As the lads themselves say on the album-liner notes:
"This album came about of an inherant love of music and great support from family and friends. We had lots of great nights putting this together and the odd late night drink wasn't unheard of."
Which puts me in mind me of one the many unforgettable Guinness slogans - 'Everything in black and white makes sense'. This album sure as hell does. In fact, it's not one crotchet short of 'pure genius'.
David Granville
Irish Democrat
---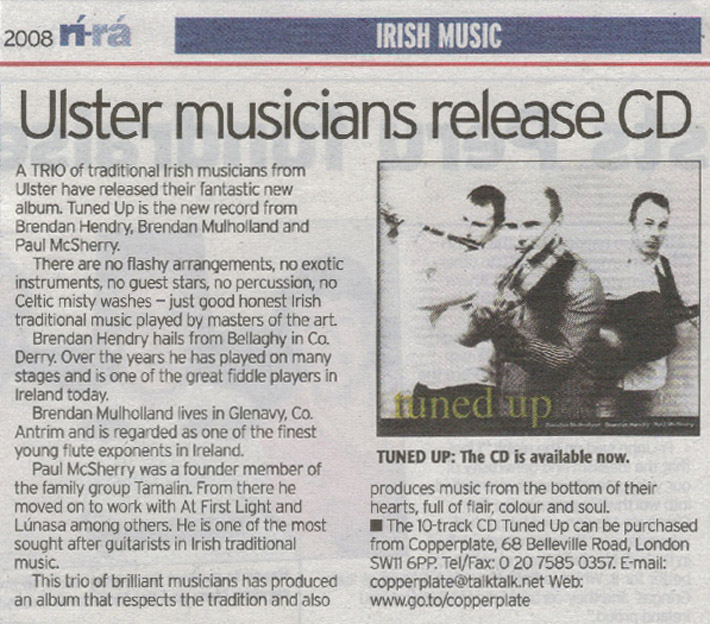 Irish Post Review
---
Tuned Up - Brendan Mulholland, Brendan Hendry, Paul McSherry
There are 10 cuts on this album, and it is an early qualifier for Instrumental Album of the Year. Derry musicians Mulholland on flute, Hendry on fiddle and McSherry on guitar have produced the virtually perfect instrumental album. These lads can play! No fuss. No frills. No production gimmicks. Just straight ahead trad played perfectly. There is always, always more than enough room for musicians of this caliber using this approach. Welcome, lads! You have played a blinder! Fab! Rating: Four Harps
Bill Margeson
Live Ireland
---
Tuned Up by Brendan Mulholland, Brendan Hendry & Paul McSherry
The more music I listen to, the more I am convinced that where music is concerned, three is a magic number -- a trio of musicians always seem to achieve a certain balance. With Tuned Up there is balance in abundance, in fact there is plenty in abundance here: pace, poise and elegance immediately spring to mind. This is an album of the most beautifully pure music. There is no unnecessarily fussy production, no wanton rhythm section muscling in on the action, just the gorgeously intoxicating sound of guitar, flute and fiddle working together in heavenly harmony.
In this case the trio consists of two Antrim men, Brendan Mulholland on flute and Paul McSherry on guitar, alongside Derry's Brendan Hendry on fiddle. Comprising mainly jigs and reels -- with a polka, waltz, hornpipe and slow air thrown in for good measure -- Tuned Up provides ten sets of tunes that demonstrate relentlessly excellent musicianship, taking the listener from one exhilarating high point to another, with a masterfully engaging immediacy.
A set of reels gets things off to a lively start as the guys come racing off the starting line. McSherry's pacey guitar lends a fierce and fiery rhythm as the duelling fiddle and flute of Hendry and Mulholland entwine in an inseparable embrace. The trio's versatility shines through on "The Killavil" with McSherry employing a more measured, intricate guitar technique, alongside the wallowing flute of Mulholland and Hendry's reticent fiddle, before the set turns to some more up-tempo jigs, allowing all the musicians to once again stretch their legs.
This isn't music that you can listen to in a detached manner. This is music with a passion that carries you along for the ride. It's not really like listening to an album, it's more like sitting in on a seamlessly flowing session. It's almost a surprise when you look up after the end of the album to find there are no musicians alongside you, no crowd egging them on to further fast and furious delights. Tuned Up is a refreshing blast of an album that basks in uncompromising candour, and is certain not to disappoint.
To find out more about Brendan Mulholland, Brendan Hendry & Paul McSherry, visit;
http://cdbaby.com/cd/bmbhpm
Mike Wilson
Folking.com
---
BRENDAN MULHOLLAND - BRENDAN HENDRY - PAUL McSHERRY - Tuned Up.
(Autoproduit)
Fiddle et flûte. Un mariage à nul autre pareil dans la musique irlandaise !
A l'instar de Matt Molloy et Tommy Peoples ou Frankie Kennedy et Mairéad Ní Mhaonaigh, Brendan Mulholland (flûte) et Brendan Hendry (fiddle) ont su accorder avec brio leurs talents respectifs pour produire un album de toute beauté Tuned Up. Osons le mot, la perfection presque absolue, the pure drop comme on dit là-bas.
Ils se sont adjoints les services de Paul McSherry, originaire également d'Irlande du Nord, à la guitare pour nous concocter une musique délicate et subtile, riche et complexe.
Trois : un nombre magique qui permet d'atteindre l'équilibre parfait, ce qu'il nous est donné de constater sur le présent album. Pas une note inutile ni de rythmique tapageuse. Pas d'arrangement superflu ou fantaisiste. De la tradition, encore de la tradition. Qui donc a dit que c'était ringard ?
Tout sonne juste dans les entrelacs de la flûte et du fiddle qui dégagent une harmonie presque divine, délicatement soutenus par quelques riffs de guitare tout en retenue et en fierté.
Dix sets se succèdent sur le présent opus : reels, jigs, hornpipes, valses ou polkas, tout y passe, transportant l'auditeur dans une atmosphère grisante et féerique.
Assurément vous ne sortirez pas indemne de l'écoute de cet excellent album tant la passion qui habite ces trois musiciens saura vous gagner.
Philippe Cousin
Musiques de Celtie (Juin 2009)
---
Northern treatment
Three musicians from the North of Ireland cook up a real treat... By Shelley Marsden - 18/11/08

'Tuned Up' (Copperplate) sees three fine musicians from the North of Ireland join forces to create a fine classic fiddle and flute album.
They are great West Belfast guitar player Paul McSherry, brilliant young flute player Brendan Mulholland from Glenavy, Co Antrim and the wonderful fiddler Brendan Hendry from Bellaghy in Derry.
The music speaks for itself here – there's no showing off with arrangement, no huge names or unusual instruments – just traditional music with the instruments in duet, flute and fiddle that form its very foundation.
McSherry, one of the most in demand guitarists on the traditional scene, provides unobtrusive support like a true pro.
These three musicians have come up with an album whose beauty lies in its simplicity. With a mix of self-penned and traditional numbers, it not only pays its respects to tradition, but is full of flair and a love of Irish music.
And with each polka, jig and reel, rarely have three musicians sounded like they were singing to such a degree from the same hymn sheet.
Shelley Marsden
The Irish World - 18/11/08
---
:: Click on the Magazine Article image below to download high resolution Magazine Article ::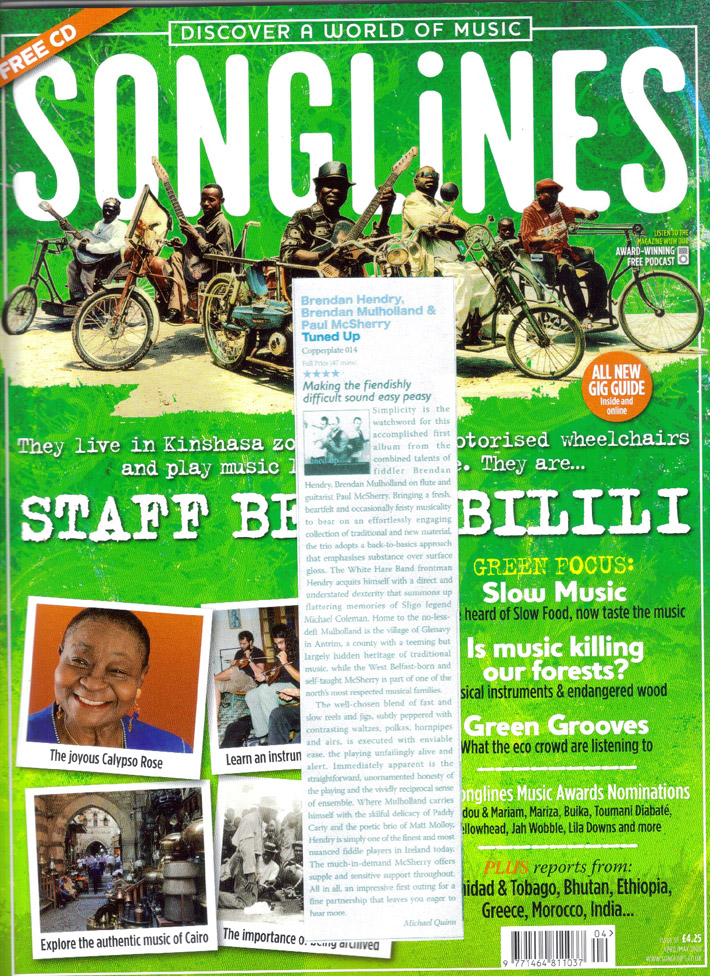 Michael Quinn
Songlines
---
Instrumental Album of the Year Tuned Up Hendry, Mulholland, McSherry
Brendan Hendry, Brendan Mulholland and Paul McSherry are from Derry and Antrim, and have produced the virtually perfect traditional, instrumental album. Master musicians all. We have played the first cut on the album about 125 times. It is a set of three reels, Fox in the Town/In the Tap Room/The Belfast Traveller. Hendry is on fiddle, Mulholland on flute and McSherry on guitar. This is straight ahead, no frills, no gimmick trad played by wonderful musicians. This is what it is all about. Or should be. Incredible. Again, when dealing with this level of musicianship, words fail us. Get up, 'ya boyos!!
Bill Margeson
Live Ireland Music Awards - The Livies 2009
---
Tuned Up! A stunning album
It's not often I start a review by explaining what an album isn't rather than what it is. In the case of Brendan Hendry (fiddle), Brendan Mulholland (flute) and Paul McSherry (guitar) it seems very appropriate as it is so far removed from what you often hear today. You will find no fancy arrangements although there are of course flourishes, no guest stars (you don't need them to sell this album) and no percussion (the guitar and rythm of flute and fiddle more than makes up for that). This is pure traditional Irish music: fiddle, flute and guitar.
The album I am referring to is 'Tuned Up'; it has a sincerity and well rooted respect for Irish traditional music which comes across throughout the album. In this day and age making an album so unvarnished is often seen as a daring move. This may sound strange but a lot of music is underpinned by big production values and attempts to do things differently. The result is often over use of fancy play, many instruments competing for attention and a raft of guest stars with a big budget on tow. It was refreshing to hear this album it makes you realise how great a good traditional act can sound where their playing is sincerely based on an inherent love of traditional music.
The fiddle and flute combine to create a beautiful sound that, with the accompaniment of Paul McSherry on guitar, make every track on this album a virtuoso performance. They work so closely together with the flute and fiddle matching note for note in places followed by subtle interplay and flourishes. There is a bond between these musicians that you will struggle to hear in others. That bond has allowed them to master a fine traditional art of play. Their instruments don't shout for attention and they play incredibly well. Forget your spotlight solos, this is clever musicianship that sounds effortless and is as natural as can be.
These gentlemen are top of their class and this album is up there with the best of them in the Irish Tradition. This is a classic that will breathe new life into Irish traditional music. Fantastic!

Tracks
1. Reels: Fox in the Town / In The Tap Room / The Belfast Traveller.
2. Jigs: Tatter Jack Walsh / Happy to Meet, Sorry to Part / Trip to Athlone
3. Jigs: The Kilavil / The Lost Ring / Malcolm's New Fiddle
4. Reels: Shovel Tongue / The Swallow's Tail / Gladstone's.
5. Jigs: In The Glibe Road / The Bar Mouth / Hendry's on the Hill
6. Reels: High Road to Linton / Humours of Newcastle
7. Air/Hornpipe: Magh Seola / The Bell Harbour HP
8. Waltz/Reels: Catriona Morrison's / The Dregs of Birch / The Raod to Taynuilt
9. Polka/Reel: Johnny O'Leary's / The Boys of Malin
10. Jigs: The Mug of Brown Ale / Scatter the Mud / Cul Aodh Jig
Folk Radio UK
Friday, 03 April 2009
---
Also, visit my Facebook page and leave a comment! Thanks, Brendan.
Website Last Updated: